What is inside my FIRST AID KIT ?
FIRST AID KIT

Plasters(in a range of shapes and sizes including waterproof ones)

Small, medium , large sections of sterile gauze

Creams/sprays(for skin rash, insect bites and stings and antiseptic purpose)

Safety pins

Gloves or disposable gloves

Tweezer

Scissors

Rolled bandages

Adhesive tape

Thermometer

Eye pads

Triangular Bandages

A first aid booklet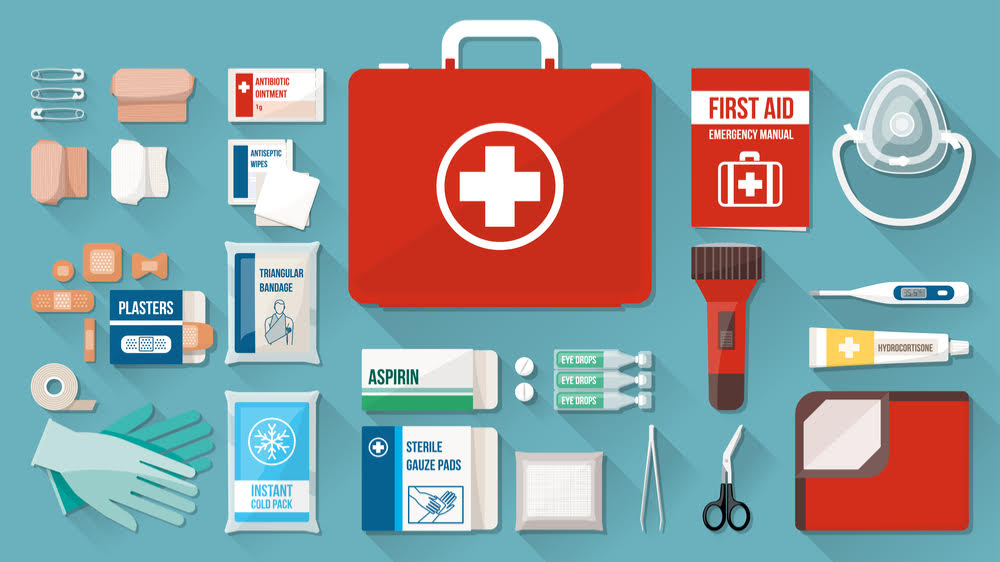 Household supplies
Water
- Bring enough clean drinking water to last you and your family for at least 3 days.
Food
- Don't stock up on salty food items as these will require you to drink more water. Look for food that can be eaten with minimal preparation or without having to cook them.

Ready-to-eat Food

Example: Canned Foods , Cup noodles


A manual can opener , paper or plastic dining ware and cooking supplies.

A portable or camping stove.

Flashlight with:

spare batteries

Glow-stick

Candles


A battery operated or wind-up radio.

Whistle

Spare clothes and rain wear for all members of the family

Garbage bags and plastic bucket for waste and sanitation

Personal hygiene items

Example:

- Toilet paper

- Toothpaste

- Soap

- Feminine supplies

- Rubbing alcohol


Plastic sheeting , duct tape and tools

Mosquito net and insect repellent

Rope and Cord

Utility Knife

Liquid household cleaners for disinfection and water purification

Heavy work Gloves , Facemask and dust Mask.

Maps of your Area

Extra Money

Books , Board games , and other forms of entertainment to keep you occupied.


What is inside my GO BAG ?
GO BAG supplies
Main supplies
Water

Non-perishable food

First aid Kit

Whistle

Swiss Army Knife

Spare cellphone and charger

Battery-operated AM/FM radio

Copies of important documents in waterproof container, including a list of special medications each member of your household takes

Extra cash

Toiletries

Lightweight rain gear and blanket.

Child care supplies , if you have children


Document Files
Passports and ID cards

Medical history , immunizations records and list of medications

Photograph of each family member with names

Birth certificates

Baptimal certificates

Marriage certificates

Social security cards and TIN numbers

Bank account , financial details and investments

Wills and trusts

Emergency plan

Address and telephone numbers listing

City map and route to your bug-out location

Cash in large and small notes


Emergency Hotline Numbers
City Hall of Dasmariñas 432–0008

Radio Operator 432–858

Office of the City Mayor 416–0095

Dasmariñas Community Affairs Building 481–8579 , 431–9626

Dasmariñas City Disaster Risk Reduction and Management Office Environmental and Sanitation Unit 683–0938

Dasmariñas City Police Station 416–0254 , 416–2924

Office of the Chief PNP 416–2213

Dasmariñas City Fire station office of the city chief fire marshall 416–9875, 432–2537

Dasmariñas Water District (Main) 416–1237

Dasmariñas Water District (DBB) 416–0509

Manila Electric Company 416–1407, 416–1707